Company
Profile
Dewan consulting is a leading software company that is specialized in tailored software systems and outsourcing services for basic business functions such as payroll outsourcing services, project management services & implementation project audit, etc…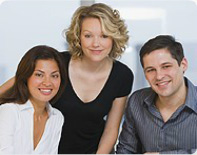 Dewan consulting was founded in 1987 by Engineer Hany El Tarhony. We started as a software development and computer consulting company. Our company is formed of a group of talented software engineers, programmers, and business consultants who are fully capable of translating business needs into actual solutions and make our client's life easier. We do this effectively and efficiently in order to suit our client's business environment. Our major concern is to understand our client's problems and to figure out how to facilitate his business process in a cost effective way. We also customize our systems to fit each business so that each system is a unique product.
Our Vision
"We seek to be one of the leading software engineering companies in Egypt and the Middle East by trying to elevate IT solutions to the global standards and insure our client's satisfaction, Also we want to increase our outsourcing activities inside and outside of Egypt".
Our Values:
There are a set of values that are crucial to us and are present in all Dewan consulting family. These values are what we care about the most and they are what help us to be who we are and to perform our job in a way that meets our client's perception. Our values are a mix of our personalities and the Egyptian culture which is represented in our norms, customs & traditions.
Main Projects Presentation
These values are:
Ethical behavior and Fairness.
Respect.
Honesty.
Personal Excellence.
Creativity and Innovation.
Intelligent and Talented.
Perfectionist and Quality Seekers.
Hard Working and Team Work.
Full Commitment to what we are doing.